What's New
Greetings, friends and fellow Supers!
Hugh Harrison here. I hope the new year is starting out with a bang- the good kind, not the bad kind. My brother, Dale, and I are investigating some of the "bad kind" on our home planet as we speak. Let's just say there are some rather explosive revelations coming up in the next Black Kat books. Working on them long distance is a bit tricky, as is writing a newsletter. Dale was gracious enough to open up a small portal to send this communication through, but he's not sure how long he can hold it open, so let's get on with it, shall we?
Read on for more…
NOTE: If you are receiving this, at some point, you opted into our mailing list. We do not wish to spam any poor souls, so feel free to unsubscribe if you feel the need. Most of us won't take it personally (though Kat has been known to!) 
Coming Soon: Playing with Fire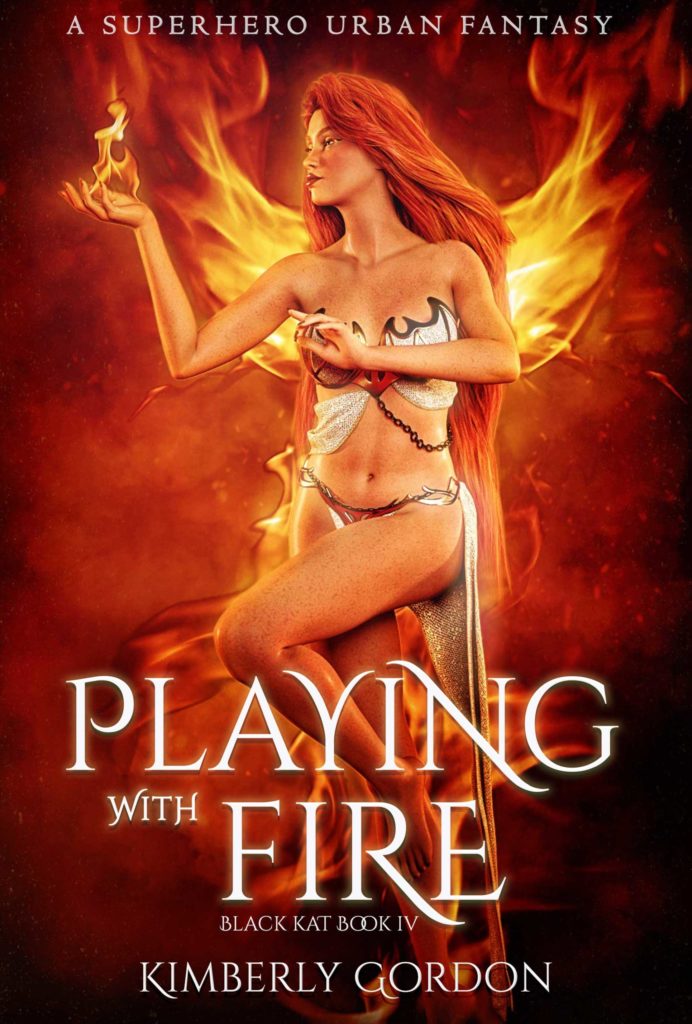 Our primary focus in 2020 is to get the next three Black Kat books in your hands ASAP. That starts with Playing with Fire. You'll be the first to know the moment it's released next month: 
WARNING: SPOILERS AHEAD! (close your eyes or scroll by if you haven't read the end of God Save the Queen)
Hell hath no fury like a woman scorned.
Reeling from Hugh's abandonment, Kat vents her anger by hunting Rogues and wrestling with her growing feelings for Jacob. Meanwhile, Hugh finds himself stranded on another world with his long-lost brother and a horde of murderous cousins. Can he survive long enough to return to the Supers with answers about their past? And if so, can he survive Kat's wrath, as well as her aim?
Firefighter Shane Sumner has a secret. 
He's not the brave, hometown hero everyone thinks he is. He's fireproof, and possibly crazy, or telepathic. Now the dog is talking to him, along with the plants, threatening to upend his sham of a perfect life. Can he conceal his strange abilities or will they expose him for the freak he knows he is?
One hot mess deserves another…
Life isn't easy for a fire shifter. Fiona and Aislinn's powers keep them homeless and just might have burnt down the Denver safe house. The streets are full of Rogues and unsavory characters; their chances of survival look bleak. Prince Charming isn't coming. Or is he? A handsome, flame-retardant stranger may be the answer to all their problems.
Get a sneak peek at the upcoming book by downloading the prologue here. 
BLACK  KAT  REVAMP  &  WORLDWIDE  DISTRIBUTION
We just finished tweaking the covers of the first three books and are in the process of doing another round of edits and formatting. Why? Even Supers aren't perfect. We're cleaning up typos and making the books prettier before turning them into audiobooks. It's hard to make changes once they're recorded (due to Whispersync, that allows you to go between eBook and audio), so we're polishing everything.
We're also in the process of rolling out the books to stores worldwide, including China!

You can now find the Black Kat eBooks at Amazon, Apple, Kobo, Barnes & Noble, Smashwords, Google Play, and many more, even Overdrive and other library systems. Here are the universal links for the books, which we constantly update with all the current stores:
Black Kat is also available in print on Amazon. We're getting ready to go wide with those too and will let you know when that happens.
GREAT READS:
Looking for something else to read while you wait for the next Black Kat book? Check these out: 
Join Indira as she learns that this utopia of a hero-free city holds a dark secret, and getting rid of all heroes comes at a price. 
Whitten was just what Indira hoped for. It banned heroes and villains, which meant no more rebuilding her home after a disaster, no more texts from her mother about how her father had been kidnapped, and no more worrying that she might be forced to become a hero herself one day.
But the city holds a dangerous secret. Just having powers in the city is dangerous and using them in any way is enough to make you disappear without leaving even a memory. Indira can still remember the faces that no one else can, and she is learning just how closely the city is watching her every move.
One mission. One mistake.
Alice could do nothing to stop the man who murdered her aunt. So, when the chance to become the vigilante Serpent came her way, she accepted the mantle without hesitation.
But no one ever said vengeance was without consequences.
Alice's moment of triumph ends in a tragic mistake. Now she and her super-powered allies must fight a villain of their own creation, one with a vendetta against the vigilantes.
Fans of Marvel and kick-ass Urban Fantasy heroines will love Serpent's Return, a twist on the popular superhero mythos. Suit up and get your copy today!
When Brandon Noble and Angelina Jones first met, he was an awkward teenager harboring a crush on his tutor's sister. Five years later, Angelina is a streetwise cop who's sure she's seen it all, until Brandon comes back into her life–lean, handsome, possessing a strange, powerful allure. . .and a terrifying secret.
Brandon is one of the Brethren, an ancient clan of ruthless vampires. Like other Brethren families, the Nobles have accumulated great wealth and prestige, never marrying outside of their kin, never leaving the isolated Kentucky farmlands where they live, undetected, among their prey. Horrified by his birthright, Brandon shunned the ritual of the first kill, earning the Brethren's lasting wrath. But the exhilarating passion he and Angelina share rouses the primitive impulses he has tried so hard to deny. And even if Brandon can protect Angelina from his enemies, can he save her from his own dark thirsts?
Find out in Book 1 of the DARK BRETHREN series. 
FILL UP YOUR EREADER FOR FREE:
2020 HOTTEST URBAN FANTASIES: 
16 great giveaways, including Unlucky Charm, here: 


FRESH URBAN FANTASIES: 
Check out over 20 FREE review copies here, including Kat & Mouse: 

FINDING THE FUNNY: 
Great FREE books to tickle your funny bone, including Cocky Doodle Doo: 

Make a Super Happy: Leave a Review!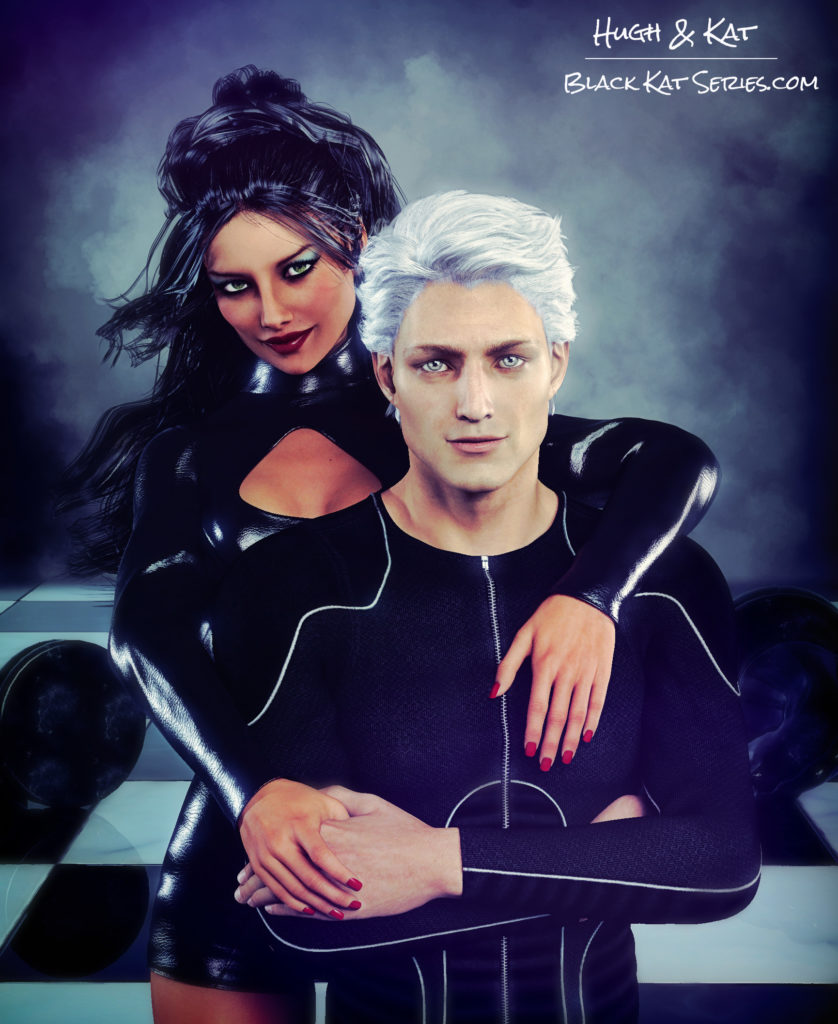 Did you know that some of our books are available to read for free in exchange for a fair and honest review? Check them out here on StoryOrigin. We'll be adding them to Book Funnel and setting up an Advanced Reading Copy (ARC) list soon as well: 
YOUR FEEDBACK IS WELCOME
We also love to hear from our fans on our public pages and social media. We want to know what you like about the series and what you'd like to see next. You can also contact me anytime at [email protected]. Please keep in mind that due to my, um…exotic location, it may take me a little while to get back to you.
Facebook pages: 
Hugh's House of Humor
Black Kat Series (news)
Twitter and Instagram: 
https://twitter.com/BlackKatSeries
https://www.instagram.com/kimberlygordonauthor/
Jared is incapacitated at the moment, so Dale is working on updating our website, here.
Until next month, darlings! Cheerio and stay Super!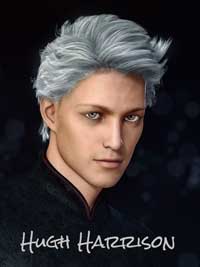 Illusionist, Escape Artist, and Super Chap!
P.S. If you see Kat out and about, tell her not to shoot anyone. She's rather upset about my recent departure!