Beware the Kitty Maths!
Dear Friends,
Just dashing off a quick newsletter, as we're in the final throes of pushing Playing with Fire out the door and into the world. Our ARC team has been very helpful, giving us feedback and pointing out errors. Thank you to all! We'll be pushing out a final ARC this week, and then doing at all again later this year for the next book.
While our author had her nose stuck in books, the cats have been up to things. Naughty things. And now some kitty maths have occurred. We went from this in December: (Stormy and Ginger)
To this recently: (Sofia, Princess, Oscar, and Sonny)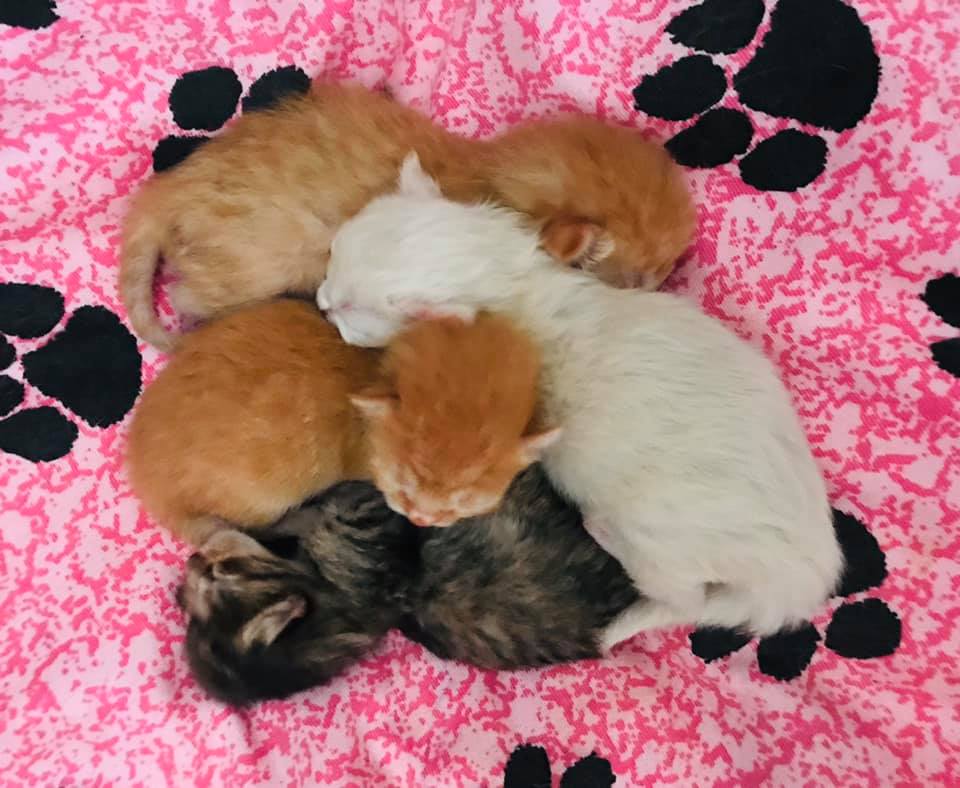 Now everything's blooming kitties, and the author can brag that she has more cats than Black Kat herself. But somehow, she still didn't end up with an actual black cat. Nevertheless, you may even find one of these cuties in the pages of next book….(grin.)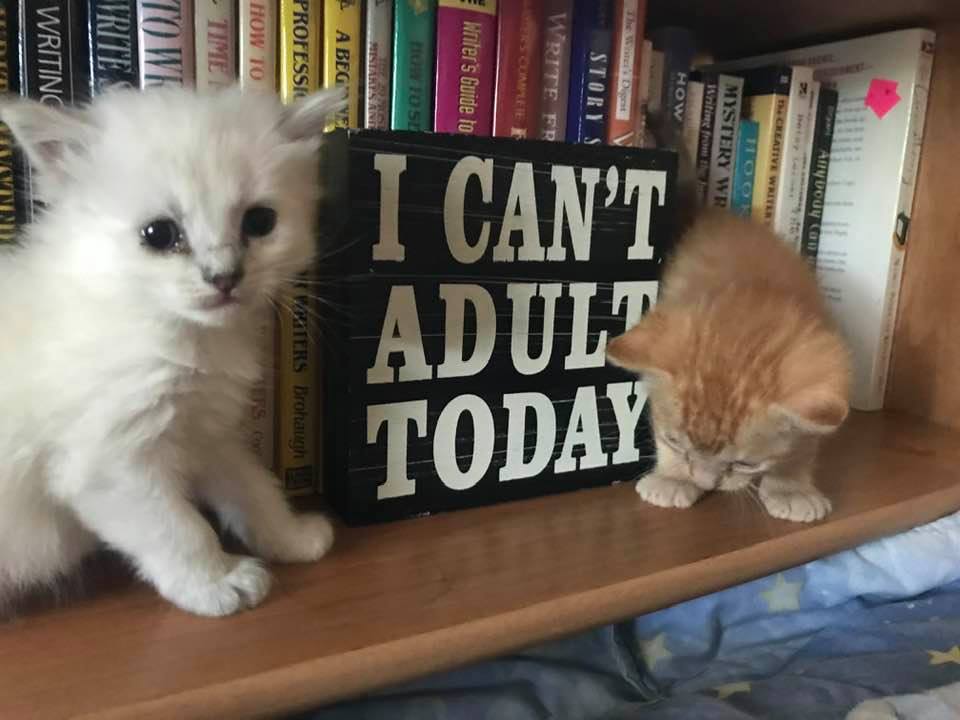 And honestly, who can adult these days? Give me a good book anytime! And you shall have one soon! Playing with Fire will be out in the next two weeks across all storefronts. First on Amazon, and then to the rest, simply because some of the others required longer lead times for the finalized version and we wanted to upload them all at once.
 Need something to read in the meantime? Keep reading, there's plenty of great picks down below!
NOTE: If you are receiving this, at some point, you opted into our mailing list. We do not wish to spam any poor souls, so feel free to unsubscribe if you feel the need. Most of us won't take it personally (though Kat has been known to!) 
Pre-order Playing with Fire
Firefighter Shane Sumner has a secret. He's not the brave, hometown hero everyone thinks he is. He's fireproof, and possibly crazy, or telepathic. Now the dog is talking to him, along with the plants, threatening to upend his sham of a perfect life. Can he conceal his strange abilities or will they expose him for the freak he knows he is? 
 One hot mess deserves another…Life isn't easy for a fire shifter. Fiona and Aislinn's powers keep them homeless and just might have burnt down the Denver safe house. The streets are full of Rogues and unsavory characters. Their chances of survival look bleak, but a handsome, flame-retardant stranger may be the answer to all their problems.
 And where, oh where has Hugh gone?
Kat struggles to find the answers while chasing a boatload of Rogues. Join Kat Hugh, Dale, Jacob and the rest of the gang as the adventure continues!
Available at: Amazon | Apple | Kobo | Nook | Google Play | Everywhere Else
Make a Super Happy: Leave a Review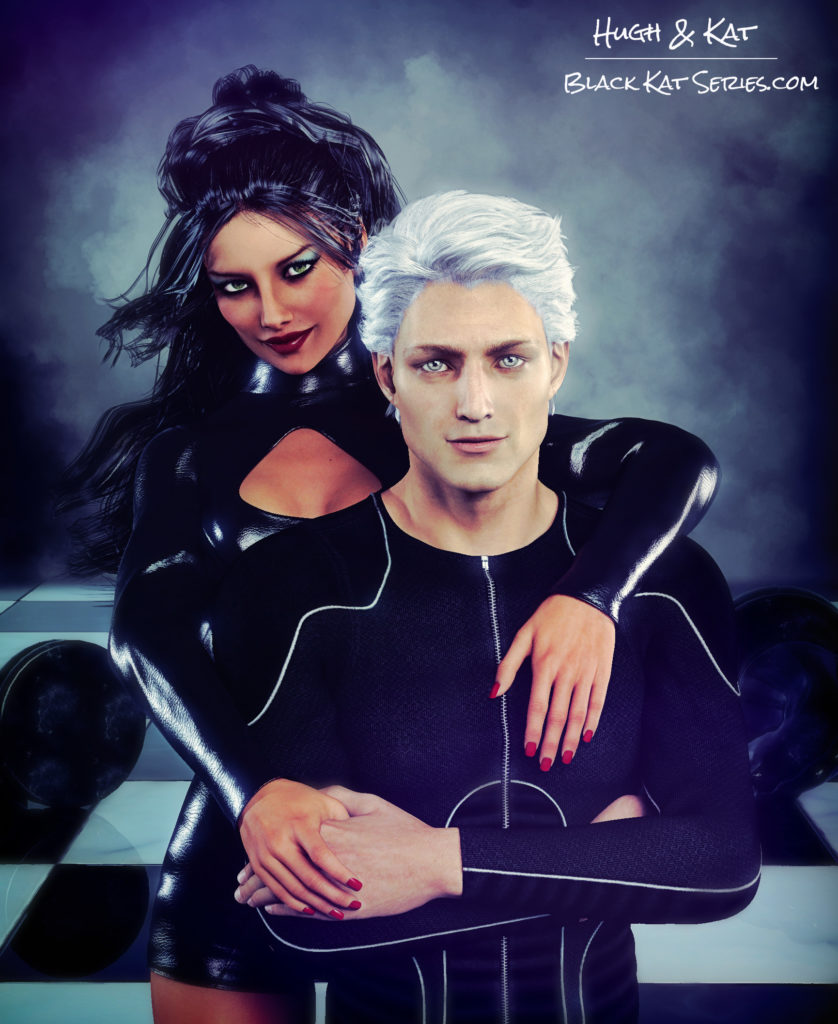 Did you know that some of the Black Kat books are available for free in exchange for a fair and honest review? Reviews are the lifeblood of indie publishing. If you've read our books and enjoyed them, please consider leaving one! 
Grab a review copy here: 
A special thank you to all who have read and left reviews of our books. They keep Supers and authors going! 
(By the way- Kat is standing on a box in this pic. And no, I'm not old, I just have white hair, which is something we're all working toward. I just got there sooner.)
GREAT ESCAPES: 
Check out these fabulous titles for your eReader!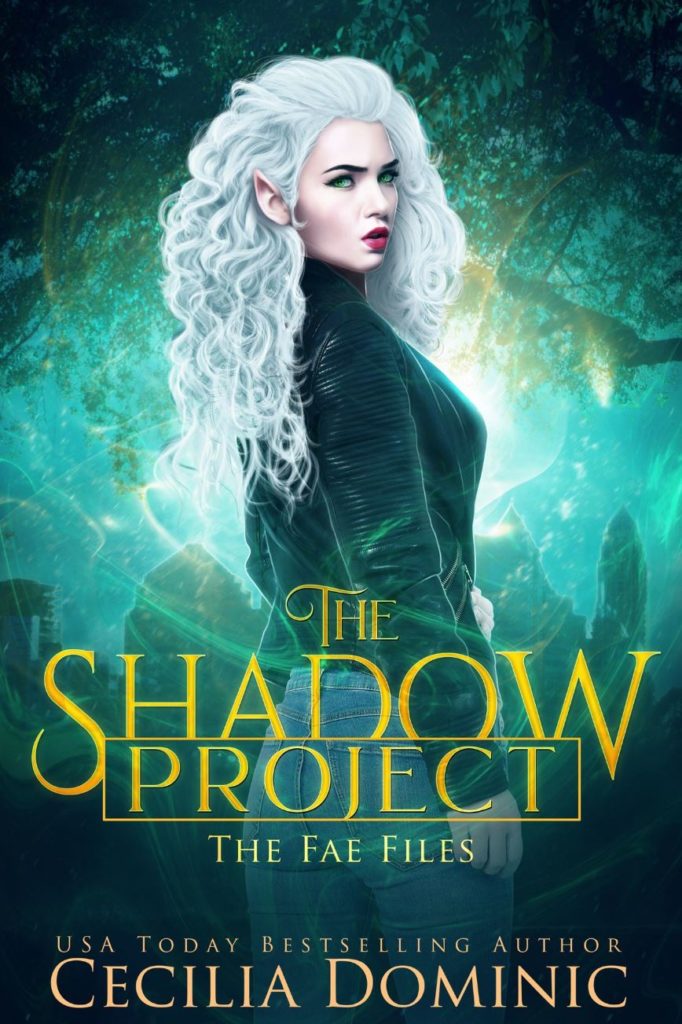 FAE SERIES: THE SHADOW PROJECT
Exiled Fae princess Reine has gotten comfortable in the Earth realm, but she'd drop it all in a heartbeat to return home to Faerie. When her scornful mother proposes a pact, Reine knows she better be careful, because Fae bargains are always loaded with tricks…
On the same day she agrees to help smoke out a traitor on a team of scientists, an invisible shifter attacks her in her supposedly ultra-secure home and a teleporting kitten adopts her.
After discovering a shadowy manipulator is intent on seeing her fail, Reine must confront a deadly conspiracy that reaches into the Fae realm and could spell the end for her kind. Can Reine unmask a sinister cabal before she loses her ticket home…or her life?
Note from Hugh: Who doesn't love teleporting kittens? A must read!
Magic is real – and it's a bitch.
Between her divorce, her terrible boss, and her dwindling finances, impulsive Mattie's life is getting more and more complicated by the day. So when she learns that Tillie, her twin sister, is missing, she drops everything and rushes across the country to join her friend Trevor in the search.
As they begin their search, they stumble across a secret room in Tillie's condo filled with crystal balls and books about magic. Suddenly people all around them are doing spells, manipulating time, and disappearing into thin air, and they soon they realize they're in over their heads.
A group of powerful mages is hunting Tillie. Can Mattie and Trevor find her first? Or will they become targets too?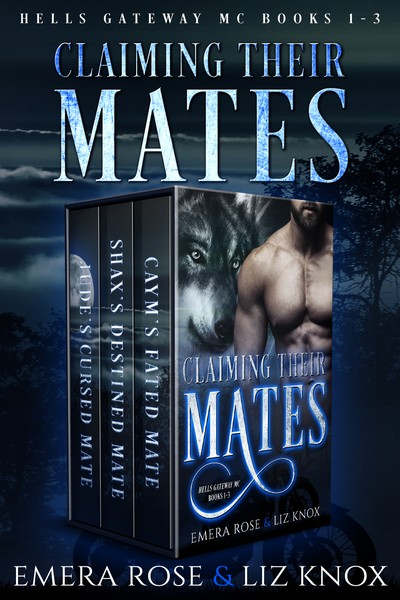 SHIFTERS: CLAIMING THEIR MATES
When our wolves come out to play, there's no telling what chains we'll break.
Caym's Fated Mate: Escaping from Hell should've been the end of our problems.
Shax's Destined Mate: She came through the portal and my entire life became chaos.
Jude's Cursed Mate: I've never put my foot down. Until now.
Who polices cartoons when they turn criminal? MANDRILL, P.I., that's who!
True Detective meets Looney Tunes meets Hellboy in this noir comic series, where a hardboiled, primate private detective uncovers conspiracies and solves mysteries across the backdrop of a cartoon city.
Manny Mandrill is hired by his world's anthropomorphic moon to uncover evidence of her husband's illicit affair. Manny is spotted by his mark–the sun itself–and must escape before being burned to cinders!
FILL UP YOUR EREADER FOR FREE:
WEIRD WITCHES AND WACKY WERES GIVEAWAY:
We all need to laugh more, especially lately. This month, you can grab over twenty great paranormal comedies for free, including Unlucky Charm. Hurry, before they disappear!

DO YOU HAVE A FAVORITE FELINE?
Send us a picture and a bit about your fur baby. We'd love to include him or her in our newsletter.
YOUR FEEDBACK IS ALWAYS WELCOME
We love to hear from our fans! Let us know what you like about the series and what you'd like to see next. Fan art is also welcome!
You can also contact me anytime at [email protected] or by replying to this email.
You can also reach the Supers on our public pages (listed below.) Please keep in mind that due to my, um…exotic location, it may take me a little while to get back to you.
Yours magically,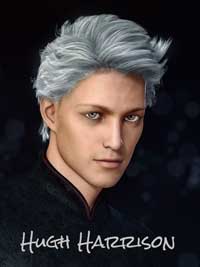 Illusionist, Escape Artist, and Super Chap!
Facebook Pages: 
Black Kat Series (news)
Hugh's House of Humor
Twitter and Instagram: 
https://twitter.com/BlackKatSeries
https://www.instagram.com/kimberlygordonauthor/
Website: http://www.blackkatseries.com