Greetings, Darlings. 
Hugh Harrison here.
Well, not quite "here," actually. If you've read the latest Black Kat book, God Save the Queen, you may know that I've done a bit of traveling as of late. I'm technically missing, as is my dear brother, but I'm pleased to announce that I've finally found him! Or rather, he found me, and dragged me somewhere…otherworldly. It looks a bit like this: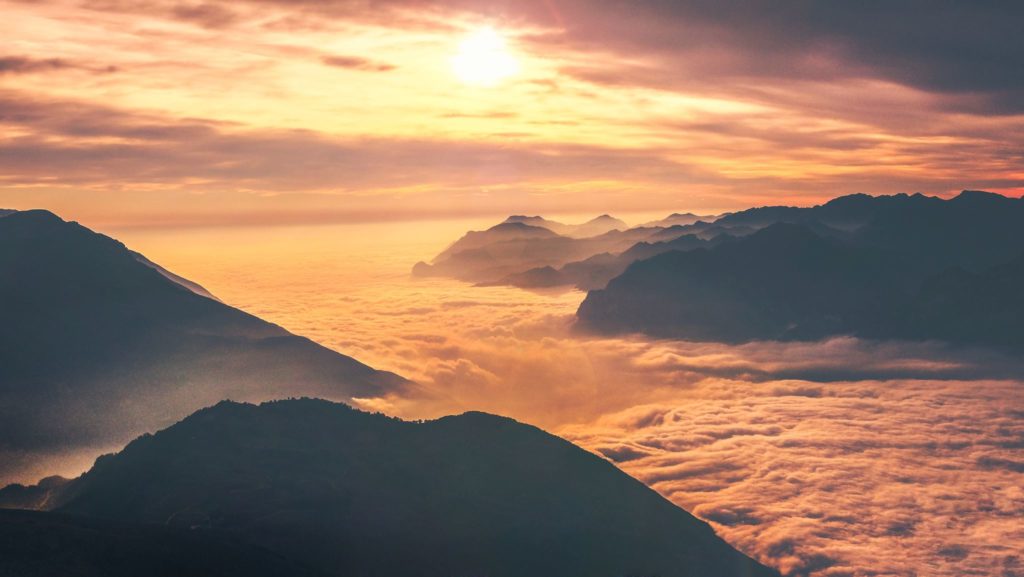 The internet connection here is horrendous, but through Dale's craftiness, I've been able to compile this letter and send it through the ether to bring you all our latest news and exciting events. Read on, my friends! 
NOTE: If you are receiving this, at some point, you opted into our mailing list. We do not wish to spam any poor souls, so feel free to unsubscribe if you feel the need. Most of us won't take it personally (though Kat has been known to!) 
And On With the News…
1. PRINT VERSIONS: First things first: Black Kat is in print now! I am excited beyond words to actually hold my words in hand. I do love books. We hope you do too!
You can find the print books listed next to our eBooks on the product pages, plus you can find all of them here. We tried to keep the cost down. Print on demand is more expensive than print runs. Most of our print books will be 9.99. God Save the Queen was twice the size of the others. The lowest we could get that one was 12.99. We're really pleased with how beautiful they came out and hope you'll enjoy them too. They are 5″x 8.25″. Not too big or too small. Just right.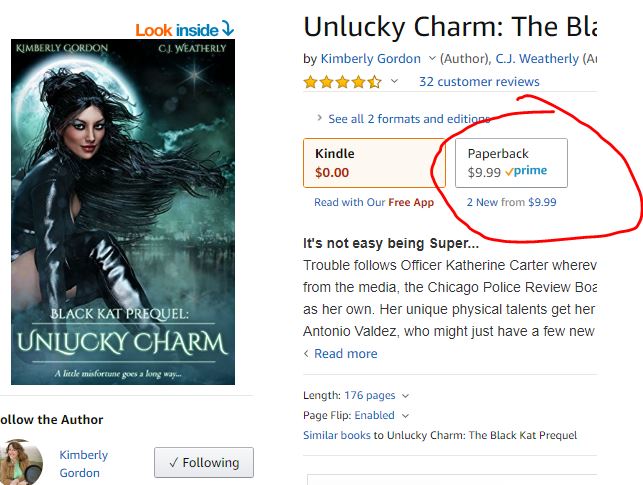 And they really did come out lovely: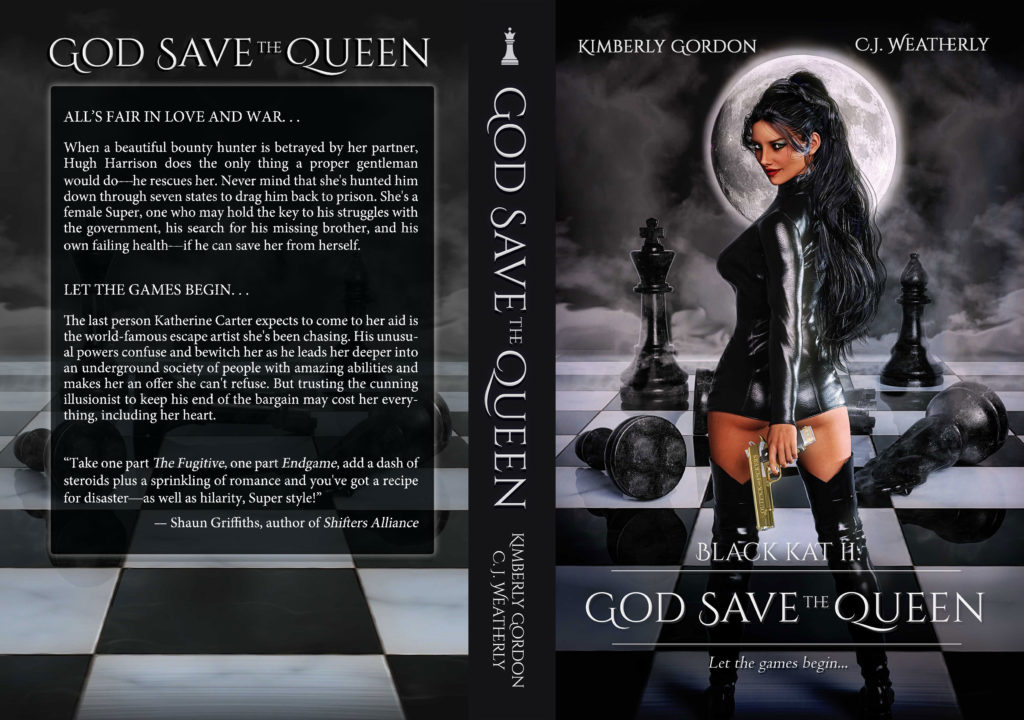 Of course, I could look at Kat's cheeky side all day. (Did I say that out loud?)
2. SERIES PAGES: We now have series pages on Amazon! Unlucky Charm is a prequel, so unfortunately is not included in the list of eBooks. but did make it onto the print book page (go figure.) You will be able to find all of the Black Kat books as they become available on these pages, including upcoming pre-orders. 
Please note: If the thumbnails of the print books look a little washed out online, it's because we had to lighten the covers up for print, which tends to be darker. We received proofs of all three books, and they look great, though the glossy covers make it hard to do it justice when photographing them. The light bounces right off: 
3. PRE-ORDERS: The series pages bring me to the next topic…Pre-orders! Amazon has just allowed authors to put in pre-orders up to a year in advance. This is exciting news, because it means we'll be able to create our covers, descriptions and book pages much earlier than we've previously been allowed to. See below for upcoming pre-orders and stay tuned to our series pages for more updates, along with our website and this newsletter. We will be trying to send out monthly updates.
4. FREEBIE: If you missed our God Save the Queen wallpaper, grab it here. We are working on a new freebie for next month's newsletter that you're going to love! 

6. OTHER READS:
What else do you enjoy reading? We'd love to hear about them and share them with our audience.
In the meantime, check out these great reads from other writer friends: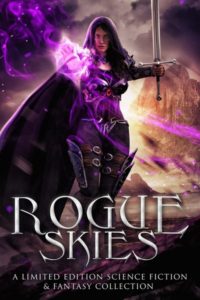 ROGUE SKIES: A Limited Edition Science Fiction and Fantasy Collection (25 Books)

The skies have gone rogue. Space can't be tamed. And magic is a law unto itself.
Transport yourself to new worlds where dark magic clashes with witty witches, diabolic demons, feisty fae, and sexy shifters. Or travel through time and space with cosmic spies, space thieves, and telepathic pirates. Add in a dash of Victorian heroes and inhuman soldiers, and you have a one-of-a-kind science fiction and fantasy collection of intoxicating proportions.
To be extraordinary is rare; to be unique is downright dangerous.
An Extraordinary Few is the first novel in The Extraordinary Series, a fast-paced urban fantasy romance filled with mystery, intrigue, and secret agents wielding supernatural powers, sure to capture any reader who enjoys science fiction romance or YA superhero fiction.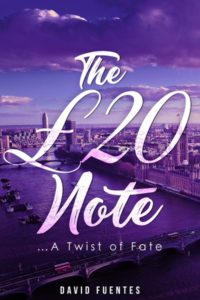 FREE ROMANTIC COMEDY: THE £20 NOTE …A TWIST OF FATE
What would have happened if you took a different path in life, what may have been? Inspired by Gwyneth Paltrow's mesmerizing portrayal of Helen Quilley in the British rom-com Sliding Doors, and set in the same city, we follow our original story as we discover what could've been had things played out just that little bit differently, but be warned, this is not for the faint of heart..
FILL UP YOUR EREADER FOR FREE:
Countdown to Halloween Book Fair:
If spooky stories are more your thing, there's plenty to choose from here. There are some great books in this collection, over 30 to choose from.

7. MORE TO COME: 
We have a very exciting year planned for 2020 with a lot of new books, as well as audio versions of your favorites. So many stories, so many more Supers to meet! Stay tuned, and feel free to share this with anyone you know who might like our stories.
That's all for now, lovelies. Thank you so much for sticking with us as our series grows and evolves, bridging urban fantasy and fantasy. You will see a lot more of the fantasy side in upcoming books, but don't worry, there's still plenty of action, adventure, comedy, and of course, romance of the Super kind.
8. WE WANT TO HEAR FROM YOU: 
Drop us a line, either replying to this message or catching us on social media. We'd love to hear from you. Tell us what you're currently reading, what you enjoy doing in your spare time, and if you like, who your favorite Supers are (you can even ask them questions.) We'd love to hear your feedback on our series.
Facebook pages: 
Hugh's House of Humor
Black Kat Series (news)
Twitter and Instagram: 
https://twitter.com/BlackKatSeries
https://www.instagram.com/kimberlygordonauthor/
And don't forget our website, here.
Until next time, darlings! Toodles!

(Yes, that's my super suit) 
Hugh Harrison
Illusionist, Escape Artist, and Super Chap!
PS. Looking for something a little different? Check out the Cocky Doodle Doo series. Our hero, Reginald Fowl, may or may not resemble a certain hyper-literate, British magician. ;)!