A Homecoming + A Cover Reveal
Hello Friends,
How is September treating you? We're doing peachy here. Quite literally. Our author's fruit trees are bent down to the ground, loaded with apples, almonds, peaches, pears, and nectarines. The weather is lovely, the fields are an ocean of gold under clear blue skies. Fall in the Midwest is utterly spectacular.
In celebration, we're having a homecoming here of sorts, but not the dance type. Our author may be coming home far sooner than she thought—from her day job. It's not the timing she planned on, and while sales have been encouraging since the release of Playing with Fire, transitioning to living off your art can be a bit nerve wracking.
It also means she gets more time with kitties and us Supers, and more time to write our stories. There are still so many to tell, and we could use your help.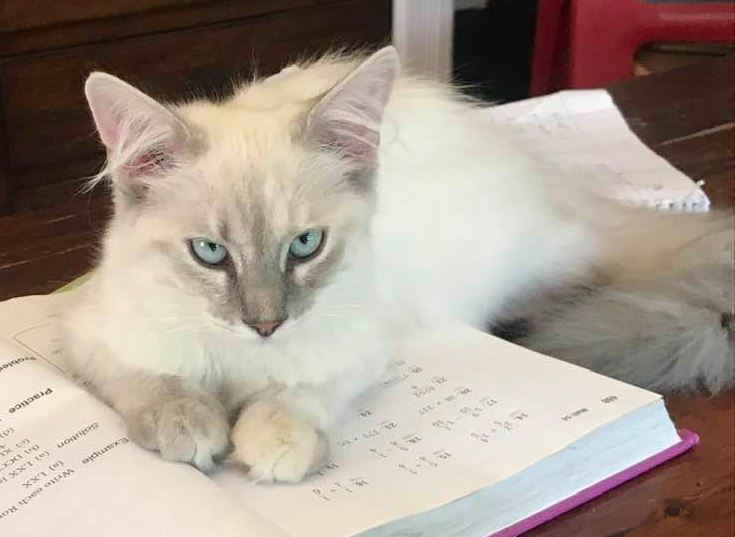 Princess Cleo assisting Dale with the maths. Not her favorite pastime.
If you've enjoyed our stories, here are a few ways you can help:
Spread the word– tell a friend, neighbor, relative, co-worker about the Black Kat series! Word of mouth is a powerful thing!
Write a review– Please leave a review wherever you purchased one of our books: Amazon, Apple, Barnes & Noble, Google Play, Kobo, Smashwords, or one of the other smaller stores we're in.
Sign up for the ARC team– help shape our future books
Forward this newsletter or one of our social media posts to a friend who might be interested.
Ask your library to stock our books. We're in Overdrive, BorrowBox, and several other programs that sell to libraries all over the world.
Meanwhile, work continues on Black Kat V: Kat-A-Strophic. We're hoping to have an ARC for our ARC reading list next month. Click here to sign up.
And we are over the moon, literally, with how the cover for Black Kat VI: Star Crossed came out. Kat and I look quite smashing, though she still had to stand on a box due to her vertical challenges. The pre-order is up at most online stores. We're shooting for a Summer 2022 release (well, Kat is, with her obscenely over-sized golden gun!) Find out more below.
NOTE: If you are receiving this, at some point, you opted into our mailing list. We do not wish to spam any poor souls, so feel free to unsubscribe if you feel the need. Most of us won't take it personally (though Kat has been known to!) 
Black Kat IV: Star Crossed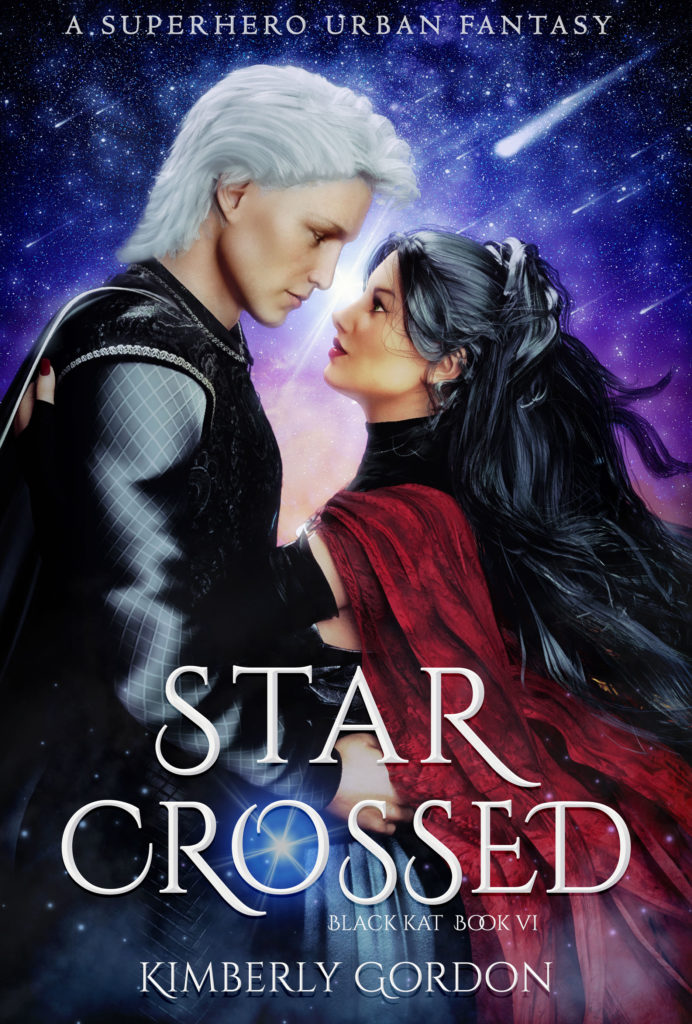 The winds of war blow across the Supers' home planet…
And spiders spin their webs in the courts of Ellandria. How far are Hugh and Kat willing to go to protect their loved ones? And will their destinies drive them apart?
Meanwhile on Earth…
A terrorist attack changes the world as the Supers know it and endangers the safe houses. Can they remain hidden? Or will they be hunted again?
Amazon | Apple | Google Play | Kobo | More
GREAT READS: 
Check out these fabulous books for your eReader!
I'm Andy McHale, private investigator. Fugitive from the law. Unregistered Hyperion.
In my world, having fire magic is pretty much a death sentence, so let's just keep that last part a secret. I'm stuck in a city I despise, trying to outwit the shadowy forces hunting me, and fixing my ruined relationship with Gabriel Vanguard.
But my love life is the least of my problems, as I stay one step ahead of the enemies who framed me for murder. Can I reconcile with Gabriel, uncover my family's secrets and figure out who wants me dead, all in the same week?
Note from Hugh: This is Book 2, you can grab Book 1 for free here.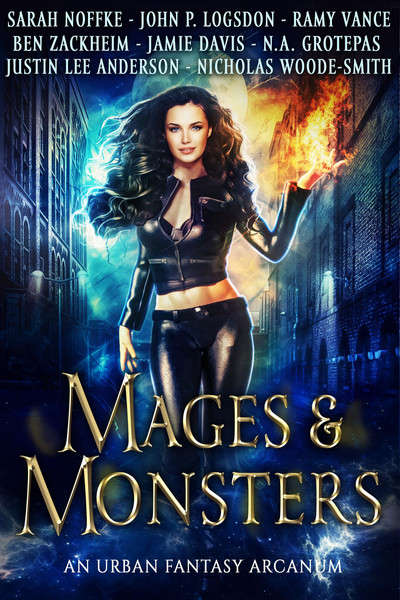 FREE: MAGES & MONSTERS ANTHOLOGY
In this tome, you shall be faced with diabolical demons, gut-wrenching ghouls, marvelous magic and just a dash of drama to keep it all flowing.
Discover your next favorite urban fantasy author, including Sarah Noffke, John P. Logsdon, Ramy Vance, Ben Zackheim, Jamie Davis, N. A. Grotepas, Justin Lee Anderson, Nicholas Woode-Smith.
*Many of the stories in this anthology are exclusive to this box-set and can only be read here. Enjoy!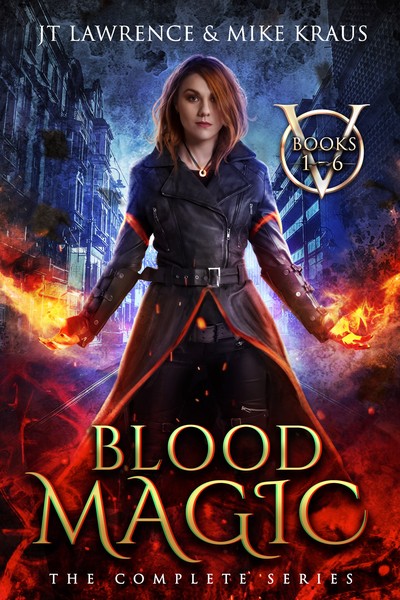 UF BOX SET: THE BLOOD MAGIC SERIES
Spell-slinger. Vampire-slayer. Magical albino ferret-rescuer. Meet Jacqueline Denna Knight, the best wizard detective in the city.
Jax turns vampires to ash and pain into magic. She also has a knack for finding things. So when a distraught—and obscenely wealthy—elf calls Jax at midnight to hire her for an intriguing job, she grabs the opportunity with both hands. But what Jax doesn't know is that this case is going to unravel her life. She'll get tangled up with a host of intriguing characters, most of whom are not who they appear to be.
As Jax speeds down a path toward the most powerful vampire clan in the country, she'll have to put everything on the line. Will she be able to use her unique brand of magic to save the Realm?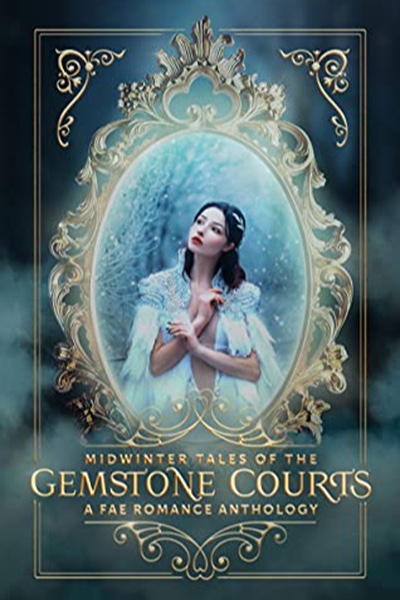 FAE ANTHOLOGY: MIDWINTER TALES OF THE GEMSTONE COURTS
The bitter chill of winter has visited the Gemstone Courts, but romance will heat up more than one cold fae heart. Experience the wild ride that is the fae Winter Solstice through stories of love, loss, betrayal, and heartbreak. Nine authors with unforgettable characters and one exotic, wild fantasy world come together in this wintery fae anthology.
Just remember it doesn't have to be cold for the fae to be icy… until love hits.
Featuring short stories from: Award Winning Author Lisa Kumar, Tina Marte, B.K. Rae, Heather Carter, Award Winning Author Jaycee Jarvis, M.K. Lorber, E.M. Howell, Mandi Richards and Wren Murphy
This Series Starter Boxed Set contains:
We Witches Three Book 1:

Three witch siblings struggle to balance love, life, and duty as protectors of a magical power source on The Demon Isle—a fresh take on supernatural mysteries that's gritty, compelling, and deeply satisfying…
The Fated Chronicles Book 1:
A mysterious book astonishes twins Meghan and Colin Jacoby when it speaks to them and transports them to another world.
Grab your copy today!
Cursed by his tribe, Michael's soul is damned to wander the Shadowlands, the domain of the Witch Goddess, for eternity. To escape this fate, he must unlock the spell that opens the portal to Corvus's kingdom, the Otherworld. It is a secret known to only one man, the powerful Guardian of the Dead.
Alena is the only child of the Guardian of the Dead. Her safe, predictable life is turned upside-down when she meets Michael at the Solstice celebration. When Michael is accused of murdering the Captain of the Guard, Alena must choose between obeying her instincts or the laws of her people.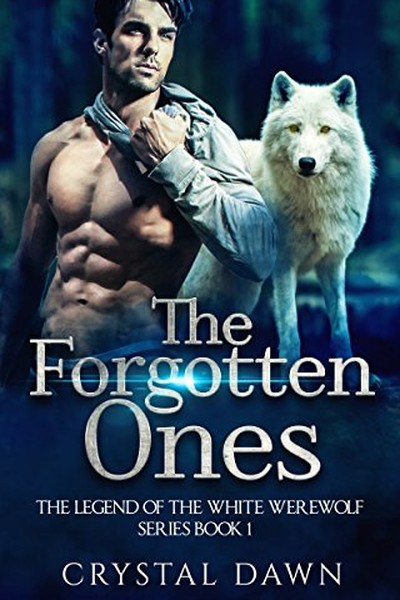 FREE SHIFTER: THE FORGOTTEN ONES
When Ariel's friends convince her to go out for a ladies night with them, she meets Blake, a handsome enigmatic man hiding a big secret. That's all right, because she has some secrets of her own she has no intention of sharing.
But when they begin to emerge, their lives become hopelessly entangled and expose Ariel to an evil she never believed was real.
Will the secrets revealed, tear them apart? Or will they discover a love that will stand the test of time? Will Blake's ex-girlfriend cause him to regret meeting Ariel? Or will the men who chase Ariel, catch her, taking her from him forever?
When the Archangel Michael captures a demon he can't bring himself to kill he must decide if he is willing to defy God to love her.
Now back on earth and working as an escort, Jahi is ready for change, but she'll be damned if she is going to trade one kind of servitude for another.
A new drug is sweeping the streets of Los Angeles, and with every evil entity searching for Jahi, can Michael keep her safe, or is he blinded by a love that will betray him?
When his father kidnaps a dwarf army, Gustav Lausch tries to find out why. Can he escape the evil empire his father, Stefan, is building?
Set in a magical kingdom, Skald's Hollow shows Stefan Lausch purchasing a mountain. Stefan tells Gustav he wants to spend quality time by going on a hunt to find dragon bones, wolves, and nightshades. He doesn't tell him that the safari is really an excuse to kidnap mountain soldiers and perform Nazi-like experiments on them.
To distance himself from his father's crime empire, Gustav built a million-dollar car company and got married to an exiled princess to start a new family with less blood on its hands. Now, Gustav must struggle to prove he can protect himself from his Goliath-like father and the evil he exhibits.
FILL UP YOUR EREADER FOR FREE:
FREE FIRST IN SERIES URBAN FANTASY
15 exciting series starters to snag, including Unlucky Charm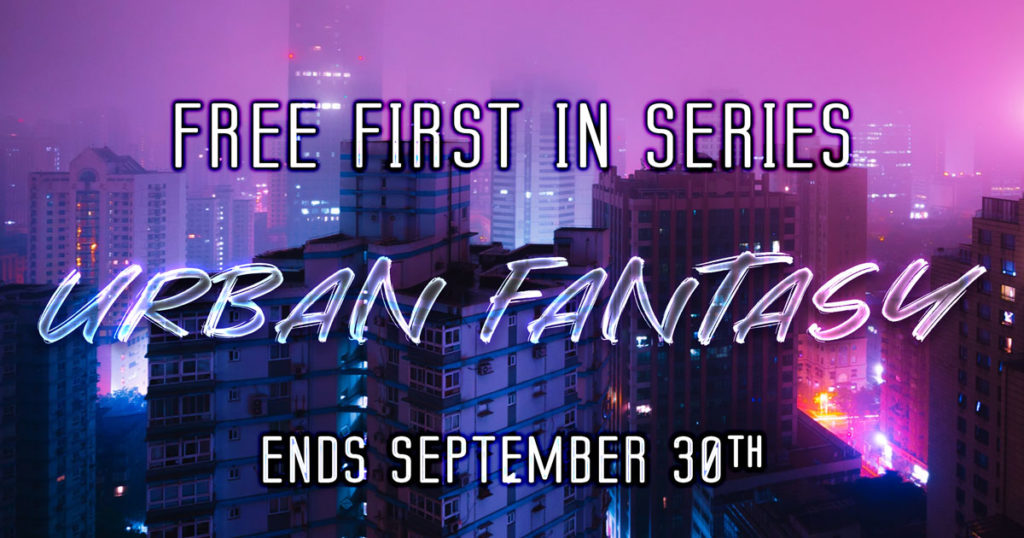 SEPTEMBER URBAN FANTASY FREEBIES
Grab 23 great free books here:

FIRST IN SERIES FREEBIES
Tons of variety here, with over 67 books to choose from:

YOUR FEEDBACK IS ALWAYS WELCOME
We love to hear from our fans! Let us know what you like about the series and what you'd like to see next. You can also contact me anytime at [email protected]. You can also reach the Supers on our public pages (listed below.) Please keep in mind that due to my, um…exotic location, it may take me a little while to get back to you. We also love fan art. Feel free to send it in! 
Here's to a Super 2021!
Yours magically,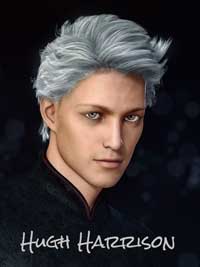 Illusionist, Escape Artist, and Super Chap!
Facebook Pages: 
Black Kat Series (news)
Hugh's House of Humor
Twitter and Instagram: 
https://twitter.com/BlackKatSeries
https://www.instagram.com/kimberlygordonauthor/
Website: http://www.blackkatseries.com