Updates, Sneak Peeks, & More. Oh My!
Hello, friends,
Hugh here. How are you these days?
Kat and I are gearing up for our next adventure and so is our ARC/Beta team. They're working with the author and having a blast (literally) whipping Kat-A-Strophic into shape. You can get in on the action, by signing up here. Or grab a sneak peek at the opening scene (click "Read More" on that page to expand it.)
In this newsletter, you'll also meet a Super who will play a key role in the next book. Someone who's been missing in action for a while…So, keep reading!
Beware the Kitty Maths, the Sequel
Over the summer, our author took a little trip to get her cats fixed, except Ginger, who was still nursing. But someone got sneaky and now there are…more kitties.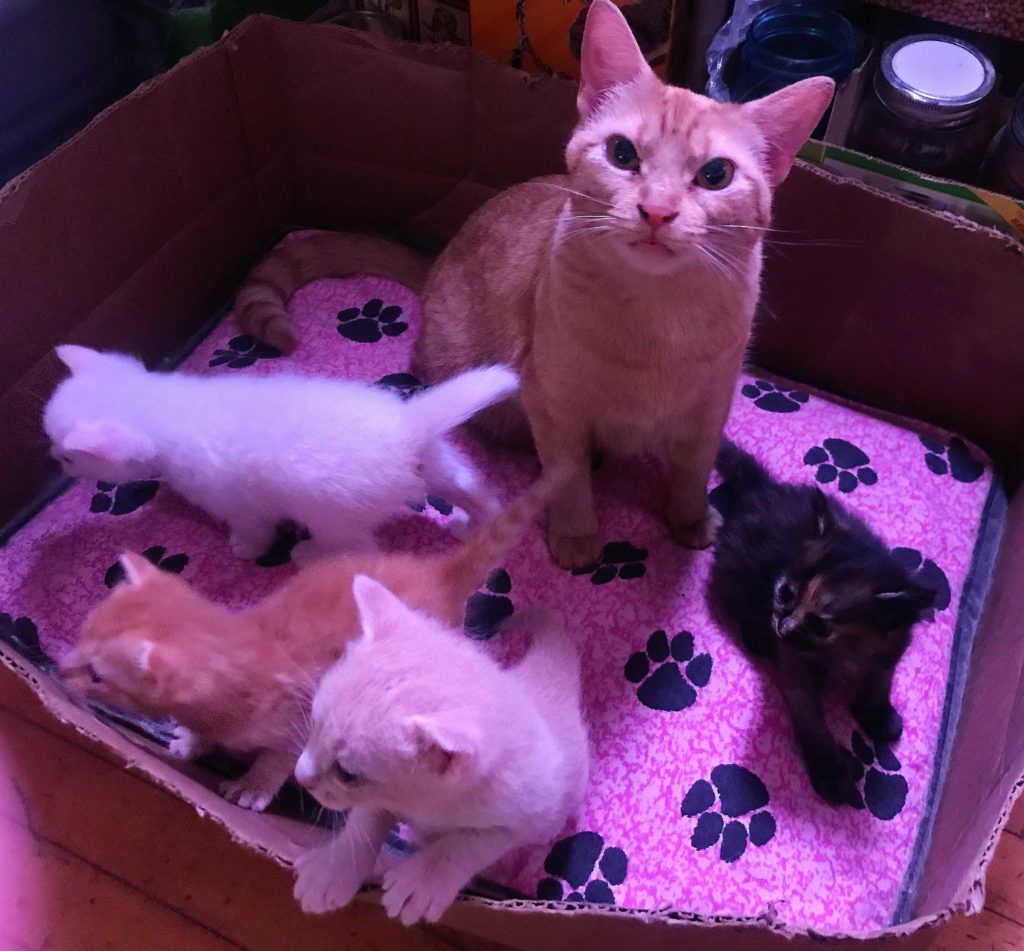 (Cotton, Red, Blondie, and Reesie with their mum, Ginger)
Fur babies really are like tribbles, they just keep multiplying! And wondrous therapy in troubling times. But now she's threatening to export them to the safe houses, which finally got new carpeting. Please spread the word about the Black Kat books, otherwise we might be fending off a kitty invasion! (Though Kat sounded rather excited about that prospect.)
NOTE: If you are receiving this, at some point, you opted into our mailing list. We do not wish to spam any poor souls, so feel free to unsubscribe if you feel the need. Most of us won't take it personally (though Kat has been known to!) 
Black Kat Book Updates

While the cats have been busy doing their thing, we've been busy tweaking eBooks again (print will be next). In the five years since Unlucky Charm was published, we've learned a boatload. Recent improvements really make it shine, especially the reworked opening scenes. It's currently free everywhere.
Kat & Mouse also has updates. Nothing earth shattering, just a bit of polishing to make your reading experience more enjoyable. We aim to please, though in that book, Kat was aiming at me…
How to get the updates:
Review copies are available on StoryOrigin, and you see the opening chapter updates in the "Look Inside" or sample feature on store pages. If you've purchased the books already, just delete them from your eReader and re-download. The new version's copyright page will say "Updated 2021."
On Amazon: it's a little more work (because, of course it is.) Here's how:
Search for Unlucky Charm or Kat & Mouse:
Click on "Update Available"
Click "Update"
Success! You're good to go!

My older brother, the missing Super. Inventor extraordinaire and talented mentalist, he possesses a keen and inquisitive mind, unmatched teleportation skills, emerging time capabilities, and an eccentric personality—and wardrobe!
Dale is the eternal optimist, even in the darkest of situations, though our childhood traumas in the lab still haunt him. He struggles with depression and manic episodes on Earth, faring better on our home planet. Click here for more
GREAT READS: 
Check out these fabulous books for your eReader!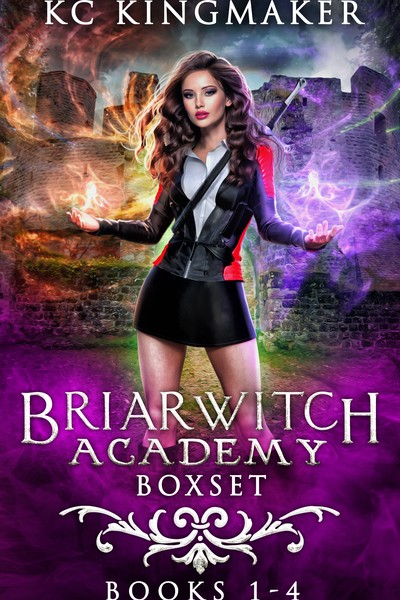 UF BOX SET: BRIARWITCH ACADEMY
A human like me has no business at a magical school. I don't really fit in with drunken gnomes, goth pixies, or magical bullies. Then there are the smoldering shifter dudes trying to get in my pants (though I don't have as much of a problem with that).
The faculty thinks I have an ancient, untapped power. And when evil threatens the academy, I have to make a choice: Accept myself as a human, or accept that I'm something different, so I can help keep the evil away from my people back home . .
Welcome to Protectors Academy, a cut-throat magic boarding school where the heirs of the rich and important rule while they compete for an elite position on the borderlands.
The problem is, I don't know how I got here, and I'm not safe here. I'm being followed, a group of mean girls is on my case, and four of the hottest guys on campus don't know what to do with me. Then I'm attacked and everyone blames me for burning down my own dorm room. All I want to do is pass their tests and get out of here. But first, I have to survive…
Ludovic Stone was the arms-bearer and right-hand of Archmage Alastor an Ulbrecht and Sorceress Lianna; protecting them throughout the years from political threats and standing by their side through the hardships they faced due to their stature.
A failed assassination attempt against Lianna prompted Alastor to act and perform a grievous ritual to tap onto the power of the Void, the dark forces beyond the universe.
Has he betrayed his friends and family to gain power? Can Lianna stop Alastor before it's too late? Will she and Ludovic be able to save the world from the evil warlock he has become? What if it was all just a lie?
Widow Patricia Hayes' life is spiraling out of control. Her live-in boyfriend has swindled her out of everything, she's moved in with her best friend, Isobel, and a potential murder has been dumped in their laps. Never mind the yoga session that nearly lands them both in the hospital.
Everything comes to a head in this finale of power versus wit: will Patricia find the strength she needs to do what needs to be done? And can she finally accept her true feelings for the mysterious Zhang?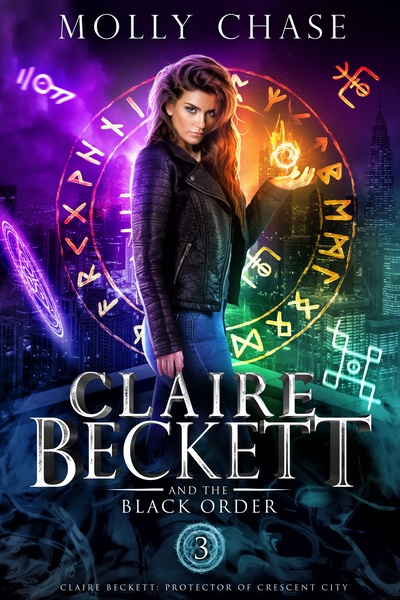 CLAIR BECKET & THE BLACK ORDER
A secret society for witches. 
I'd always just thought those were for privileged college students, but it turns out I was wrong. Again.
I've survived a shapeshifter attack, nearly been lunch for a vampire, and now I've stumbled onto The Black Order, the group of powerful witches who control the Shadowmoon Coven.
Heath warned me about getting closer to them, but solving a murder to learn more about my mom's past is worth the risk.I just hope I can make it out without pledging my soul.
FILL UP YOUR EREADER FOR FREE:
ENCHANTING FANTASY GIVEAWAY:
Over 60 Enchanting Tales for your eReader

 FREE FANTASY BOOKS:
Hurry! These great fantasy giveaways are going fast!

LEARNING YOUR POWERS GIVEAWAY:
Experience amazing characters discovery their powers in these free stories:

 #OTHERWORLDS FANTASY:
Escape in new worlds & adventures with these fantastic, free fantasy offerings:

YOUR FEEDBACK IS ALWAYS WELCOME
We love to hear from our fans! Let us know what you like about the series and what you'd like to see next. Contact me anytime at [email protected] or by replying to this email.
You can also reach the Supers on our public pages (listed below.) Please keep in mind that due to my death-defying schedule, it may take me a little while to get back to you. We also love fan art. Feel free to send some in! 
Yours magically,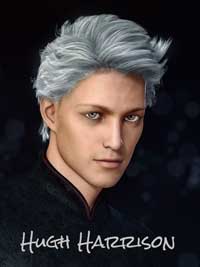 Illusionist, Escape Artist, and Super Chap!
Facebook Pages: 
Black Kat Series (news)
Hugh's House of Humor
Twitter and Instagram: 
https://twitter.com/BlackKatSeries
https://www.instagram.com/kimberlygordonauthor/
Website: http://www.blackkatseries.com